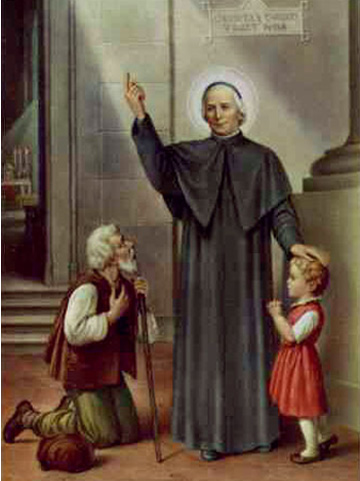 St. JOSEPH COTTOLENGO,
Turin, Italy. (1786 - 1842)
The Heavenly Patron of LSDP
"The dormitory of the sick, a Cathedral! Each bed there, an alter! The patients- Christ! So serve them on your knees"
Welcome
"Seek ye first the kingdom of God and His righteousness and all these things shall be added unto you" (Mt. 6:33) is the foundational inspiration of the Congregation of Little Servants of the Divine Providence. Depending entirely on this Holy Word, and trusting absolutely in the Divine Providence, Sr. Dr. Mary Litty set about her work.
Urged by the love of Jesus Sr. Dr. Mary Litty opened a Home for the abandoned and the destitute on 17th January 1978 at Kunnamthanam and this paved the way for the foundation of this Congregation.
A Word About The Foundress
Sr. Dr. Mary Litty of Oliapuram family, Kothamangalam was born on 2nd August 1935. She had her education at St. Augustine's GHS, Kothamangalam and thereafter at Assumption College, Changanassery. In 1955 she joined the Medical Sisters of St. Joseph (MSJ), Kothamangalam. After her Vestition and Profession she was sent to Rome for medical studies by her superiors.

Inspiration
During her studies in Rome, Sr. Mary Litty happened to visit the 'Little House of the Divine Providence' in Turin founded by St. Joseph Cottolengo. Depending solely on Divine Providence thousands of destitutes and terminally ill were affectionately looked after there. This House (Turin) was the inspiration for a similar Home back in India.
read more
The Beginning of the Congregation
The Lord revealed to Sr. Litty the need of dedicated girls to look after the mentally challenged inmates whose number was on the increase. Eventually she felt the need of starting a religious community. Sr. Litty approached the Archbishop and brought the matter to his kind notice. The Archbishop graciously gave her permission to start 'The Little Servants of the Divine Providence' as a 'Pious Union' on December 8, 1978.
Now this Congregation has 147 professed sisters and 24 candidates. Nearly 1000 sick inmates are taken care of in the sixteen houses.
The community was raised to a Congregation of Eparchial Status on 8th September 2001. Certainly it is a milestone in the path of the growth of this Congregation.
read more
African Mission
The loving providence of God has given us a new mission in Zambia in the continent of Africa. We started our 16th House in the Archdiocese of Lusaka on 28th November 2012 with five sisters. Mother Mary Litty, our foundress took keen interest in this venture and she in her 78th age went to Zambia to serve the poor and needy. We aim at an integrated development of the society with special programmes for the physically and mentally challenged, the HIV affected and infected children and adult and the empowerment of women and youth.

read more